Nam Dinh: Effective application of machinery in peanuts production, processing
Thanks to timely support from national industrial promotion funding, Hien Vinh Investment Trading Co., Ltd. has purchased advanced machinery and equipment, expanded production, and captured market opportunities.
Hien Vinh Investment Trading Company Limited (Yen Cuong Commune, Y Yen District, Nam Dinh Province) is a unit operating in the field of mixed crop production and animal husbandry.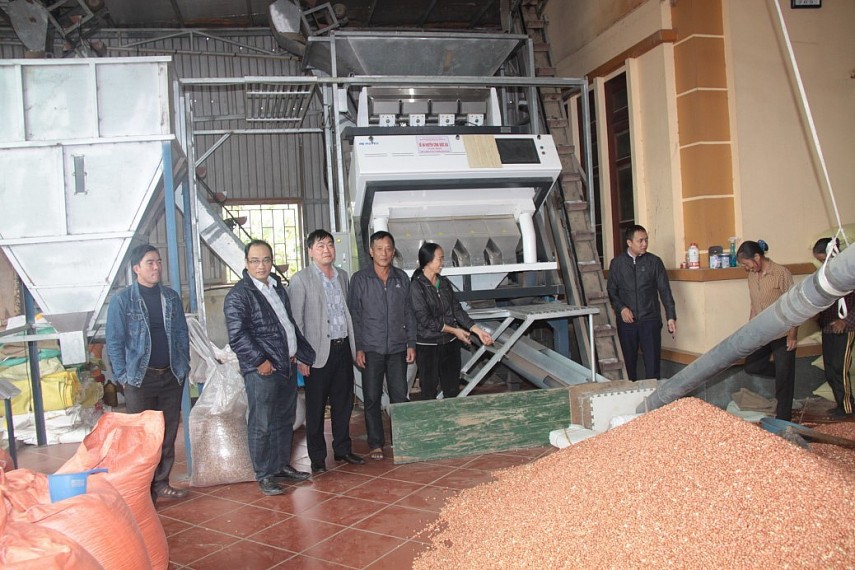 A peanut sorting machine at Hien Vinh Investment Trading Company Limited– photo: Kim Thanh
According to Nguyen Thi Vinh - Director of Hien Vinh Investment Trading Co., Ltd., in the past, the peanuts sorting was done manually by workers' naked eye and experience. As a result, many of the company's orders were returned or the prices reduced due to poor quality. During crops seasons, the company needed about 20 to 30 workers a day to pick out those peanuts of poor quality.
To solve the problem, in 2022 the company purchased a sorting machine system for production and was advised and supported by the Industrial Promotion and Development Consultancy Center No.1 (under the Agency for Regional Industry and Trade) to build a project using the National industrial promotion funding. The new equipment, after going into stable operation, has helped the company replace a large number of workers. More importantly, product quality and labor productivity increased as the sorting machine removed the bad and poor quality nuts, thereby saving costs, lowering prices, increasing profits, and enhancing brand reputation and products of the company in the market.
Hien Vinh Investment Trading Company Limited is one of many rural industrial enterprises in Nam Dinh Province that have received support from the industrial promotion program. In recent years, the Industrial Development and Consulting Center No.1 has implemented similar projects achieving good results, such as: the project for supporting the application of advanced machinery and equipment in wooden furniture production at Ngoc Duy Nam Dinh Company Limited in My Phuc Commune, My Loc District; or the project for supporting the application of rice drying systems implemented at Bon Thuan Agricultural Product Processing Cooperative in Hop Hung Commune, Vu Ban District...
Most of industrial promotion projects after being implemented have been effective, contributing positively to efficient operations of the rural industrial establishments, and also creating jobs and stable income for many workers in the rural areas.
Hai Linh
Source:https://ven.congthuong.vn/nam-dinh-effective-application-of-machinery-in-peanuts-production-processing-48970.html
Copy link