Viet Nam among potential markets for branded residences
Viet Nam is one of the four markets with potential growth in branded residences segment, according to Savills Branded Residences Research 2022.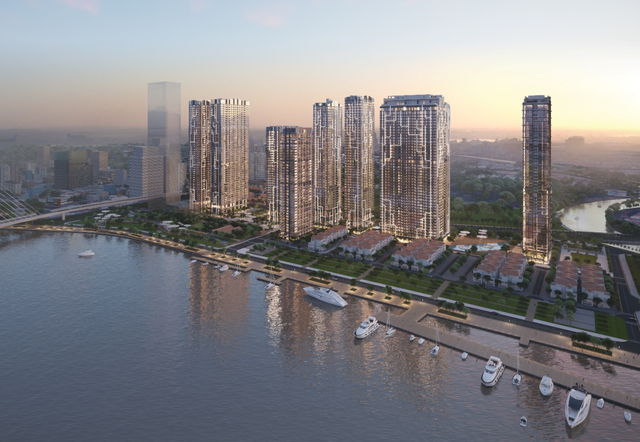 By pipeline volume, Viet Nam is among markets forecast to add the largest number of projects, joining the U.S., the UAE, and Mexico, which all have more than 30 projects in the forecast period.
Viet Nam is leisure and business destination, and both tap into a wide range of international demand.
Mathew Powell, Director of Savills Ha Noi said Viet Nam market for branded residences is continuing to expand, especially Viet Nam urban and resort market with a very strong potential.
Branded residences hold a great deal of potential and are increasing in number not only in holiday destinations but also in urban centers such as Ho Chi Minh City.
Oxford Economics has forecast that Ho Chi Minh City will be among cities in the Asia-Pacific to see a strong rise in wealth, along with Jakarta (Indonesia), Beijing, and Shanghai (China).
Domestic demand for luxury branded residences is likely to grow faster in emerging markets where the base is low, such as Ho Chi Minh City, which opens up investment opportunities for luxury products.
Viet Nam's economy is expected to grow five times by 2035, becoming the 19th largest in the world, says U.K. consultancy the Center for Economics and Business Research (CEBR) in its annual league table on the growth prospects of 193 economies.
Its GDP growth is forecast at 7 percent a year over the next five years, and 6.6 percent in the subsequent decade, reaching a nominal GDP of US$1.59 trillion - a nearly five-fold increase in 15 years, passing major Asian economies like Chinese Taipei and Thailand.
Riding the economic wave, the rich population in Viet Nam posted the world's second fastest growth over the past decade. 
The country's average annual growth rate of those with a net worth between US$$5-30 million, categorized as a very high net worth (VHNW) population, reached 13.9 percent during the 2010-2019 period, says Wealth-X, a leading global wealth information and insight provider.
The affluent class is forecast to grow strongly in the next five years. By 2025, Viet Nam will have 511 ultra-high-net-worth individuals (UHNWI) with a net worth of at least US$30 million each and 25,812 high-net-worth individuals (HNWI) with assets of at least US$1 million, says The Wealth Report 2021 put out by Knight Frank. 
Source:https://en.baochinhphu.vn/viet-nam-among-potential-markets-for-branded-residences-111230104101107283.htm
Copy link